Book Chapters and Journal Articles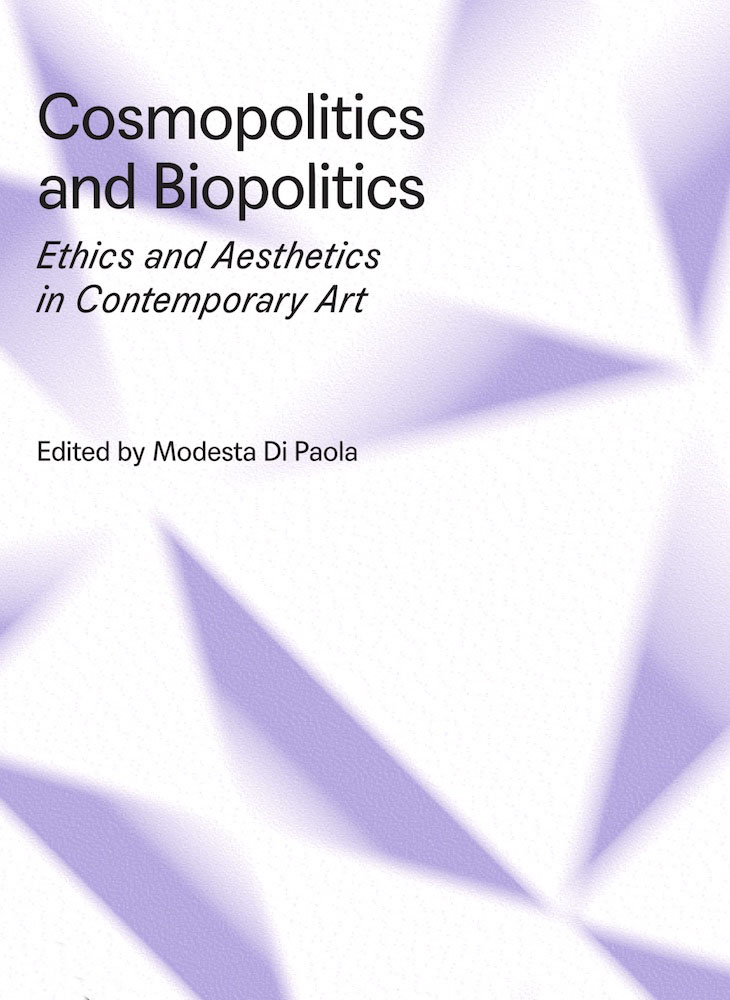 Cosmopolitics and Biopolitics seeks to trace cosmopolitical aesthetics understood not only as the union of art, science, and the right to survive, but also as the prism through which artistic practices are developed around questions connected to transculturality, migration, nomadism, post-gender subjectivities, social and natural sustainability, and new digital technologies. This book's authors fashion a narrative that moves in the territory of "inbetweenness", between hospitality and hostility, between welcoming and conflict, between languages and intermediate languages, science, and survival in a world that is "common" more than global.
book chapter
"Affect: Belonging"
ALPESH KANTILAL PATEL

Drawing on everything from artworks and a cartoon to police documents and a personal anecdote, I consider three temporally discontinuous events in the past to engender an ethical future across racial, ethnic, and national lines. More specifically, I examine the fatal misrecognition of South Asians as 'terrorists' shortly after 9/11 in the United States; of Jean Charles de Menenez, an electrician originally from Brazil living in London, as a 'terrorist' after 7 July 2005 or '7/7' in the UK; and of teenager Trayvon Martin as a 'criminal' in Sanford, Florida, on 6 February 2012 in the US. I will hone in on 'affect' to examine the complex manner in which visual identification – or misidentification in these cases – takes place and thereby connects these disparate events. 'Affect', roughly, refers to feeling before cognition. Simply put, at stake in this chapter is how certain subjects are considered as 'belonging' and others as not; and the role of artworks in reconfiguring belongingness in ways that move beyond the simplistic cosmopolitan/national binary and towards something akin to what Isabelle Stengers has defined as the 'cosmopolitical proposal' (2005). This proposal privileges the space of not knowing and of slowness that I will argue these artworks bring into being—it is a world (or cosmos)-making that is marked by lack of fixity that nonetheless does not discount the possibility of the 'ethical future', which I invoked at the beginning of this paragraph. It is through a focus on affect that I will animate the latter point.
This edited collection reassesses East-Central European art by offering transnational perspectives on its regional or national histories, while also inserting the region into contemporary discussions of global issues. Both in popular imagination and, to some degree, scholarly literature, East-Central Europe is persistently imagined as a hermetically isolated cultural landscape. This book restores the diverse ways in which East-Central European art has always been entangled with actors and institutions in the wider world. The contributors engage with empirically anchored and theoretically argued case studies from historical periods representing notable junctures of globalization: the early modern period, the age of Empires, the time of socialist rule and the global Cold War, and the most recent decades of postsocialism understood as a global condition.
book chapter
"Artistic Responses to Gaps in LGBTQI Archives: From World War II Asian America to Soviet Estonia"
ALPESH KANTILAL PATEL

In this chapter, I cast a gaze across the globe to consider artistic practices that suggest novel methods of addressing the gaps in material culture, or, the complete erasure of the subjectivity of lesbian, gay, bisexual, trans*, queer, and intersexual (LGBTQI)-identified individuals in archives. I consider San Francisco, California-based Tina Takemoto's video Looking for Jiro (2011) alongside Tallinn, Estonia-based Jaanus Samma's installation Not Suitable for Work: A Chairman's Tale (2016). Takemoto explores the homoerotica and material connected to WWII incarceration camps that are part of gay Japanese American Jiro Onuma's (1904-1990) archive, housed in the Gay, Lesbian, Bisexual, Transgender Historical Society in San Francisco, California, whereas Samma considers documents that are culled from official Estonia historical archives regarding Juhan Ojaste's (1921-1990) sodomy trial during the early post-war era.
title:Globalizing East European Art Histories: Past and Present
editors: Beáta Hock & Anu Allas
publication date: 2018
PUBLISHER: Routledge
Details: 220 pages, 14 COLOUR PLATES & 41 B&W ILLUSTRATIONS
ISBN: 978-11-3805-432-5
Queering Contemporary Asian American Art takes Asian American differences as its point of departure, and brings together artists and scholars to challenge normative assumptions, essentialisms, and methodologies within Asian American art and visual culture. Taken together, these nine original artist interviews, cutting-edge visual artworks, and seven critical essays explore contemporary currents and experiences within Asian American art, including the multiple axes of race and identity, queer bodies and forms, kinship and affect, and digital identities and performances.
book chapter
"Queer Zen: Unyoking Genealogy in Asian American Art History"
ALPESH KANTILAL PATEL

My interest in exploring Asian American art history through a queer methodological framework has surprisingly led me to the abstract works from the 1960s of an artist who is not of Asian descent: Cy Twombly (1928-2011) and his interlocutors, especially Roland Barthes (1915-1980). Given much work remains to make visible the artworks of US-based artists of Asian descent—lesbian, gay, bisexual, transgendered, and queer (LGBTQ)-identified or not—my approach at best appears peculiar and naïve and at worst flippant and irresponsible. This chapter stripped from the context of this volume could indeed lean towards the latter and be construed as a hyperbolic provocation that masks its shortcoming. However, I want to underscore that my essay be read relationally with and through the other interviews, artist statements, and scholarly essays in this book that do make visible the work of artists of Asian descent that are LGBTQ-identified. Moreover, this chapter challenges how one might approach visibility and inclusion, especially in the context of LGBTQ-identified artists of Asian descent and their artworks that are largely absent in narratives of mid-twentieth century American abstraction. I suggest that what counts as evidence in art history has to be re-thought —a point to which I will return later in this essay—and that Asian American art history has to be re-cast as not only tied to genealogy.
title: Queering Contemporary Asian American Art
editors: Laura Kina and Jan Bernabe
publication date: 2017
PUBLISHER: University of Washington press
Details: 296 pages, 36 COLOR PLATES & 11 B&W ILLUSTRATIONS
ISBN: 978-02-9574-137-6
Why choose as a title for this introduction a phrase referring to a key trope from 1980s feminist discourse (sexual difference) for a book that my co-editor, Erin Silver, and I hope resides several generations beyond such designations? Simply put, the book title – Otherwise – is an oblique reference to the ways in which queer theory and feminism are 'otherwise' to each other, as well as to art history, but also to the ways in which they both deal with the 'other- wise' of sexual and gender identifications in relation to (in this case) visual culture. The title of this introductory essay brings this open concept down to earth, more specifically signaling our commitment to honoring theories of past feminist art history and visual theory while opening the project to queer theory's radical new ways of experiencing, thinking, and understanding the sexual subject in relation to visuality and visual culture: hence, 'sexual differences and otherwise.' Furthermore, the book's subtitle, 'imagining queer feminist art histories,' we deliberately phrase as a leap of faith or of creative thought (even leaving the door open for some of our contributors to argue against aspects of what 'queer feminism' seems to imply). ~~ Amelia Jones
book chapter
"Thinking Archivally: Curating WOMEN我們"
ALPESH KANTILAL PATEL


As Tirza True Latimer notes in her introduction to the forum "Conversations on Queer Affect and Queer Archives" for Art Journal, "[m]ore than a repository of objects or texts, the archive is the very process of selecting, ordering, and preserving the past—in short, of making history." In this way, writing art histories and curating exhibitions are both archival and deeply subjective practices. At this point, the insufficiency of archives is tautological on a theoretical level per Jacques Derrida. However, jettisoning the practice of archiving wholesale is counter-productive, especially for art historians and curators interested in making visible marginalized or unwritten histories. In this process of effectively building the archive of hegemonic art history anew, how might art historians and curators mobilize rather than veil the archive's blind spots in productive ways? This chapter is a modest attempt in answering this question. As a case study, I examine the curatorial frameworks of and objects and materials a part of all three venues of the exhibition WOMEN我們: Shanghai (2011), San Francisco (2012) and Miami Beach (2013).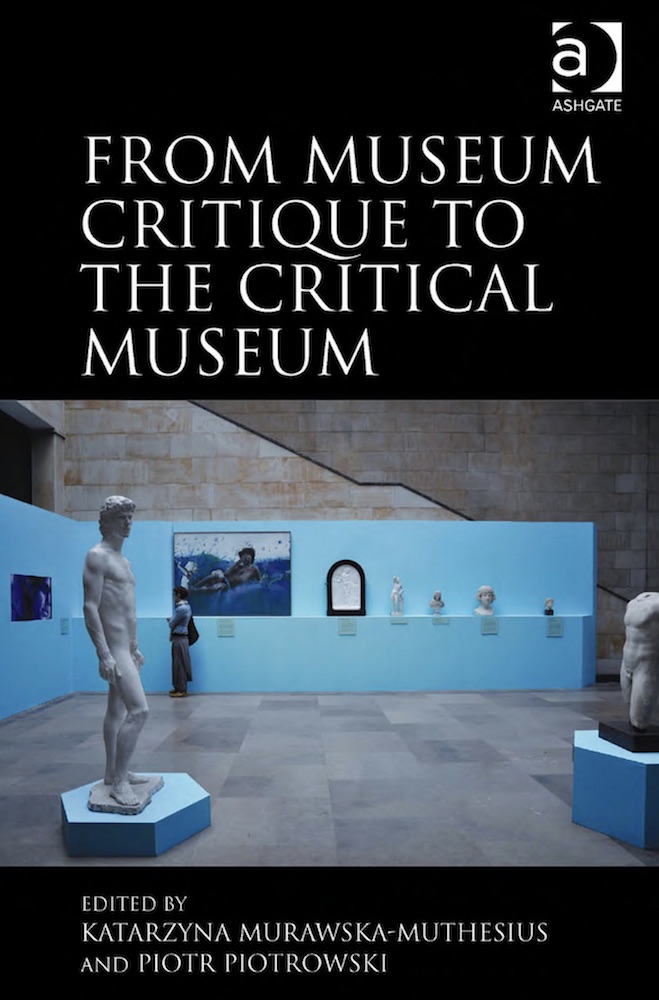 Since the late nineteenth century, museums have been cited as tools of imperialism and colonialism, as strongholds of patriarchalism, masculinism, homophobia and xenophobia, and accused both of elitism and commercialism. But, could the museum absorb and benefit from its critique, turning into a critical museum, into the site of resistance rather than ritual? This book looks at the ways in which the museum could use its collections, its cultural authority, its auratic space and resources to give voice to the underprivileged, and to take an active part in contemporary and at times controversial issues. Drawing together both major museum professionals and academics, it examines the theoretical concept of the critical museum, and uses case studies of engaged art institutions from different parts of the world. It reaches beyond the usual focus on western Europe, America, and 'the World', including voices from, as well as about, eastern European museums, which have rarely been discussed in museum studies books so far.
book chapter
"Towards Embodied, Agonistic Museum Practices: Contemporary Manchester, England"
ALPESH KANTILAL PATEL


In this chapter, I explore how museums in Manchester, England have recast their collections as sites of conflict, or as agonistic, and thereby approximate the "post-museum" theorized by Eilean-Hooper Greenhill. Using gossip and synaesthesia as critical tools, I examine how museums produce knowledge that is unresolved, precarious, and sensual rather than fixed, settled, and disembodied. As case studies, I consider the incorporation of an abstract self-portrait by a queer-identified South Asian woman into the Whitworth Art Gallery's permanent collection exhibition of early 20th century artworks on the 'body'; and a YouTube video documenting a curator's discussion with patrons regarding the genealogy of a Nijerian Ijo figure they gifted to Manchester Museum that engenders frank and personal discussions of contemporary British racism.
title: From Museum Critique to The Critical Museum
editors: Katarzyna Murawska-Muthesius and Piotr Piotrowski
publication date: 2015
PUBLISHER: Routledge
Details: 272 pages
ISBN: 978-14-7242-235-4
Creolizing Europe critically interrogates creolization as the decolonial, rhizomatic thinking necessary for understanding the cultural and social transformations set in motion through trans/national dislocations. Exploring the usefulness, transferability, and limitations of creolization for thinking post/coloniality, raciality and othering not only as historical legacies but as immanent to and constitutive of European societies, this volume develops an interdisciplinary dialogue between the social sciences and the humanities. It juxtaposes US-UK debates on 'hybridity', 'mixed-race' and the 'Black Atlantic' with Caribbean and Latin American theorizations of cultural mixing in order to engage with Europe as a permanent scene of Édouard Glissant's creolization.
book chapter
"Re-Imagining Manchester as a Queer and Haptic Brown Atlantic Space"
ALPESH KANTILAL PATEL


This chapter frames how queer, racialized subjectivities can creolize the homonationalism and 'colorblindness' of Europe's queer cosmopolitanism through an attention to the lived experience of the haptic body and the metaphoric currents of the Brown Atlantic.
Description of special journal issue: "The Decolonial Gesture"

This issue of e-misférica, looks at the discontinuities, breaks, and unraveling that signal the decolonial, exploring the power and epistemology of colonialism and its legacies in the present.
e-misférica, Performance and Politics in the Americas, is the Hemispheric Institute's peer-reviewed, online, trilingual scholarly journal.
journal article
"La Chica Boom's Failed, Decolonial Spictacles"
ALPESH KANTILAL PATEL


This essay explores Xandra Ibarra's (aka La Chica Boom's) "spictacles," her intentionally provocative term for her performances that are part burlesque and part extreme exaggeration of Mexican and Mexican-American stereotypes. Through the lens of concepts and theories such as intersectionality, sociality, endurance, and pastiche, I suggest that Ibarra's work points to complex ways of theorizing what might be provisionally described as the "failure" of the decolonial. In this failure, as Ibarra herself writes, there is "no redemption, no rewriting subject, no re-performing the subject, there is only fucked life."
journal title: e-misférica - The Journal of the Hemispheric Institute of Performance and Politics
editors: guest edited by Macarena Gómez-Barris and coedited by Jill Lane and Marcial Godoy-Anativia
publication date: winter 2014
PUBLISHER: New York University
Details: Volume 11 | issue 1 Special Issue: Decolonial Gesture and accompanied with curated selection of 20 photographs of Xandra Ibarra's performances.
ISSn: 1554-3706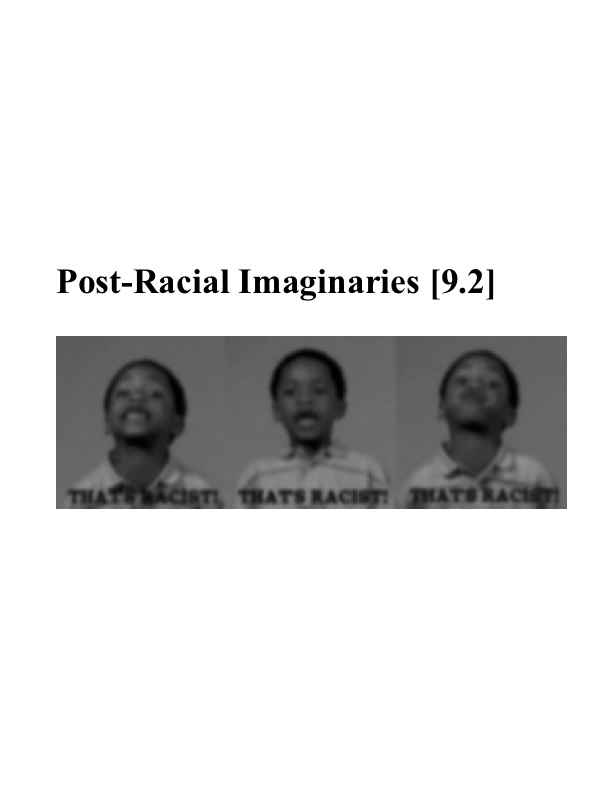 Description of special journal issue on "Post-racial Imaginaries":
This two-part special Issue provides the beginnings of an attempt to delineate the complex demarcations and mobilisations of what a focus upon 'post-racial imaginaries' may (or may not) productively generate. The richness of the enquiry, its contestations and the scope of the contributions collected for the Issue elaborates the claims that the 'post' in post-race is about the critical affirmation of proliferations of racism in a contemporary neoliberal order that claims to have gone beyond the racial.
darkmatter is a peer-reviewed, open-access online journal committed to producing contemporary postcolonial critique. darkmatter project is an open access knowledge space for exploring contemporary operations of race and racism. A critical focus of the project is to interrogate the emergence of race in terms of its im/material, informational and technological mutations.
journal article
"Open Secrets in 'Post-Identity' era Art Criticism/History: Raqib Shaw's Queer Garden of Earthly Delights"
ALPESH KANTILAL PATEL


Postcolonial theory, psychoanalysis, and formal analysis have all been utilized to engage with artist Raqib Shaw's work, however a queer frame—one attuned to issues of sexuality as well as to its instability—remains curiously missing. Focusing on his 2004 work "Garden of Earthly Delights X" that is often written about but not in the latter context, I argue that the artist's work queers broad notions of South Asian masculinity, not only by surfacing issues of homosexuality, but also related issues that are intertwined with it. In so doing, it refuses to create new normatives and instead creates a queer identity marked by a productive instability; one that is hopeful yet not overly optimistic.
Journal title: darkmatter
editors: Ashwani Sharma & Sanjay Sharma
publication date: 2012
DETAILS: 9.2 Special issue on Post-Racial Imaginaries
issn: 2041-3254